We can learn from the smart thinking of bees, who use a special 'bee glue', which we call propolis, as their 'secret weapon' to protect the hive from harmful germs and the effects of the weather. The outstanding properties of this natural substance come to the fore in our propolis products. Our priority is quality: this applies to the production process, the conventional ingredients and the natural raw materials, too.
The anti-bacterial effect of manuka honey is shared by no other honey type, making it extremely valuable as an ingredient in our natural cosmetic and health care products. For our Manuka products, we only use the highest-quality New Zealand manuka honey from authentic sources.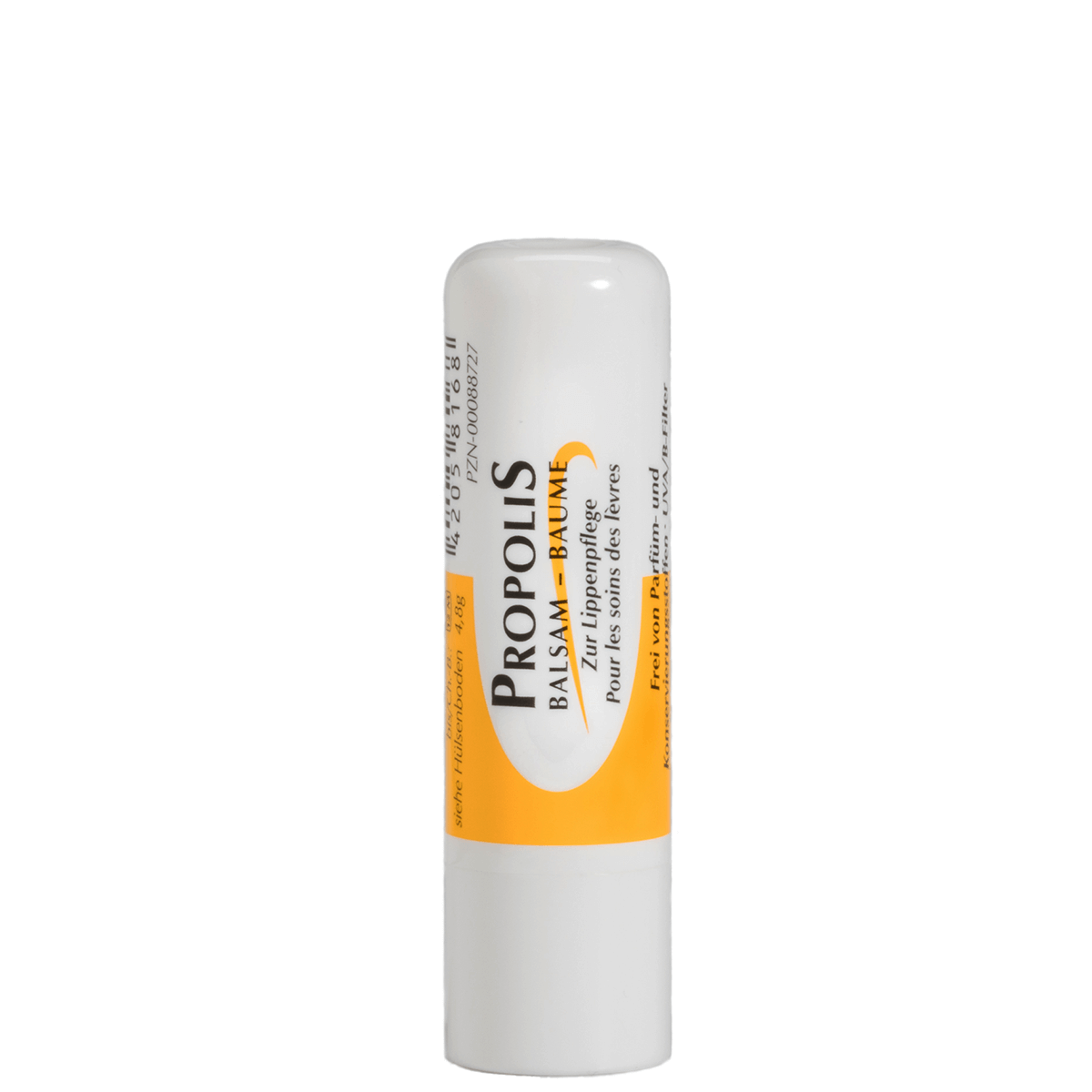 Propolis Balm Stick
UVP: 4,95 €
Size: 4,8 g
PZN: 00088727

Our Original Propolis Lip Balm Stick soothes and relaxes your lips, protecting them from harmful environmental factors. It also provides UVA / UVB protection.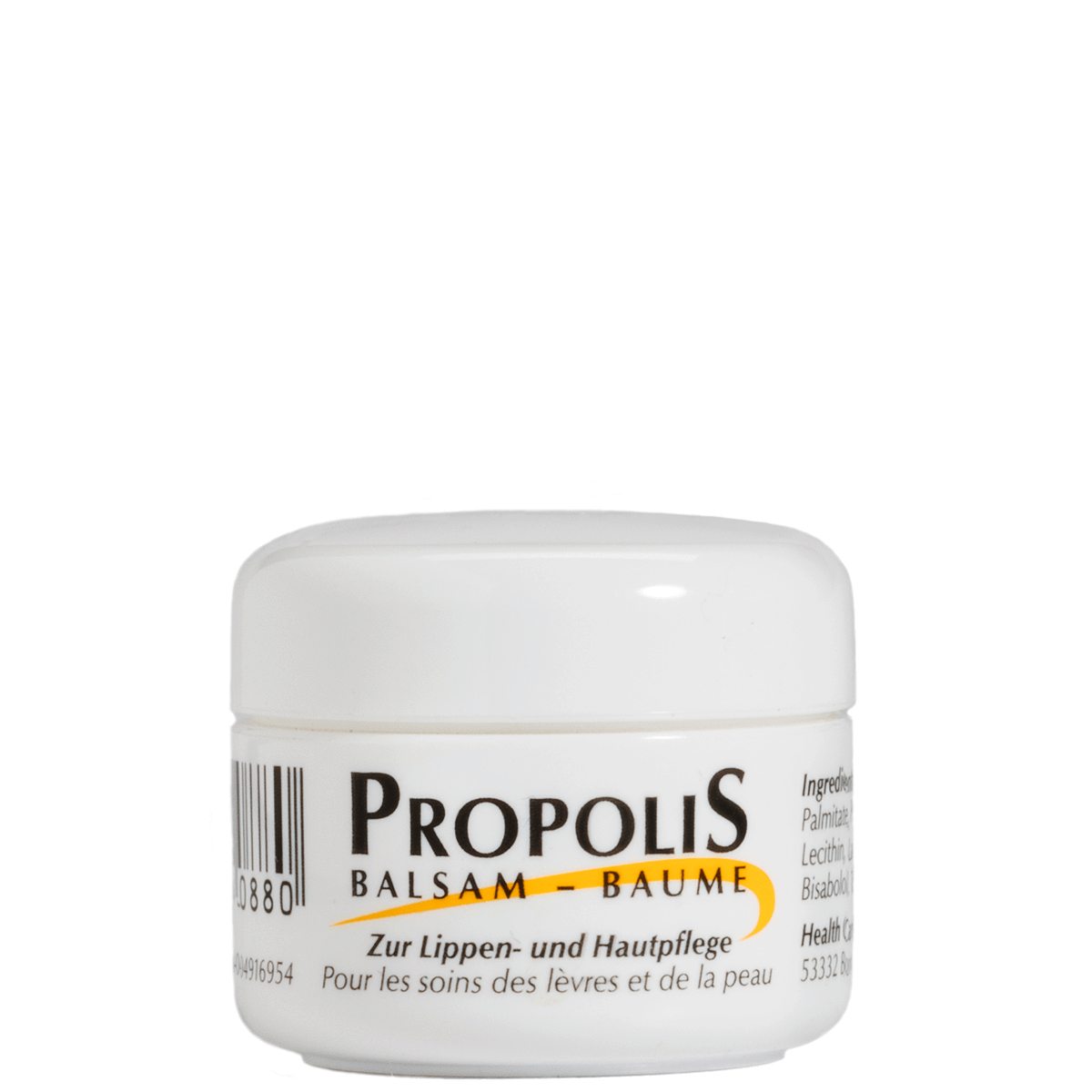 Propolis Lip Balm Jar
UVP: 5,50 €
Size: 5 ml
PZN: 04916954

This soothing balm is one of the real favourites in our range. The natural ingredients have proven to be very beneficial for dry and chapped lips. No colours or preservatives.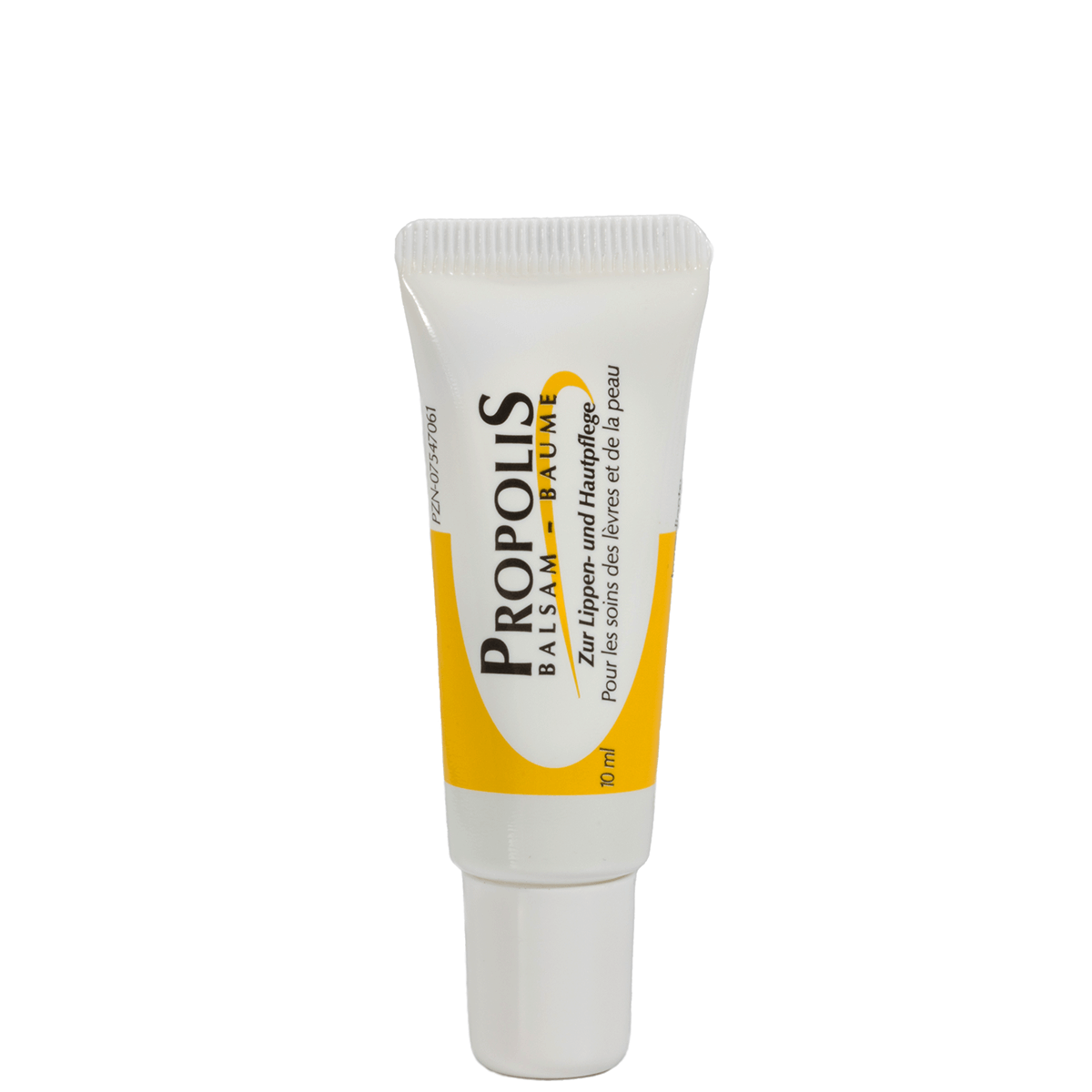 Propolis Balm Tube
UVP: 5,95 €
Size: 10 ml
PZN: 07547061

Our Propolis Balm has a special tube opening designed for easy, accurate application and spreading on your lips, as well as on other small areas of irritated skin. The sophisticated recipe includes valuable natural ingredients, including propolis and pure jojoba oil. This helps prevent your skin from drying out quickly and gives the balm a very silky feel.
Propolis Pure Balm Stick
UVP: 4,95 €
Size: 4,8 g
PZN: 06681917

Even the bees are astonished! Our PROPOLIS PURE Lip Care Stick has been awarded the quality mark "certified natural cosmetic" from the BDIH, the Federation of German Industrial Companies and Trading Firms. The balm is easy to apply to your lips and forms the perfect 'foundation' for lipstick. It contains no artificial colours, perfumes or preservatives.
Propolis Pure Skin Balm Jar
UVP: 12,95 €
Size: 50 ml
PZN: 09262090

This skin balm provides excellent holistic skin care, especially for skin that tends to dry out easily, with its selected natural active ingredients. Refatting substances prevent your skin from drying out again, and a high proportion of organic beeswax enhances the protection it provides. The skin balm contains no artificial perfumes or preservatives.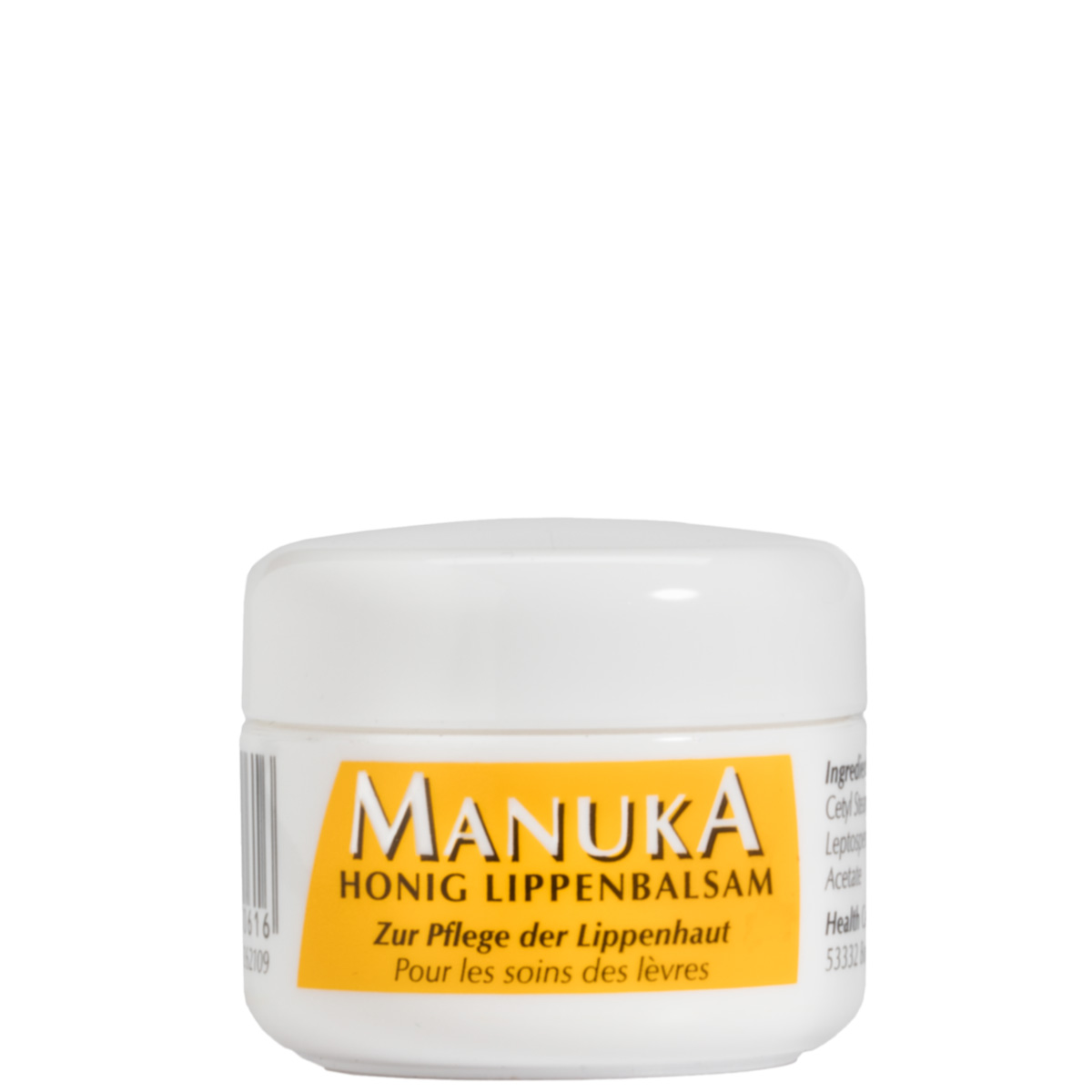 Manuka Honey Lip Balm Jar
UVP: 5,95 €
Size: 5 ml
PZN: 09262109

Our Manuka Honey Lip Balm offers you natural lip care of the highest quality. The beneficial properties of organic beeswax and the unique anti-bacterial effect of manuka honey (10 to 20 times stronger than any other honey) combine to ensure your lips remain noticeably soft.
Propolis Mouth Spray with Manuka Honey
UVP: 9,95 €
Size: 20 ml spray bottle
PZN: 00632846

Natural defence to carry with you: The mouth and throat spray brings together the highly beneficial active ingredients from two natural sources: propolis and manuka honey. It keeps your breath fresh and ensures rapid disinfection of your mouth and throat. These effects make it an essential companion to carry around with you. The high honey content also gives this product a great taste.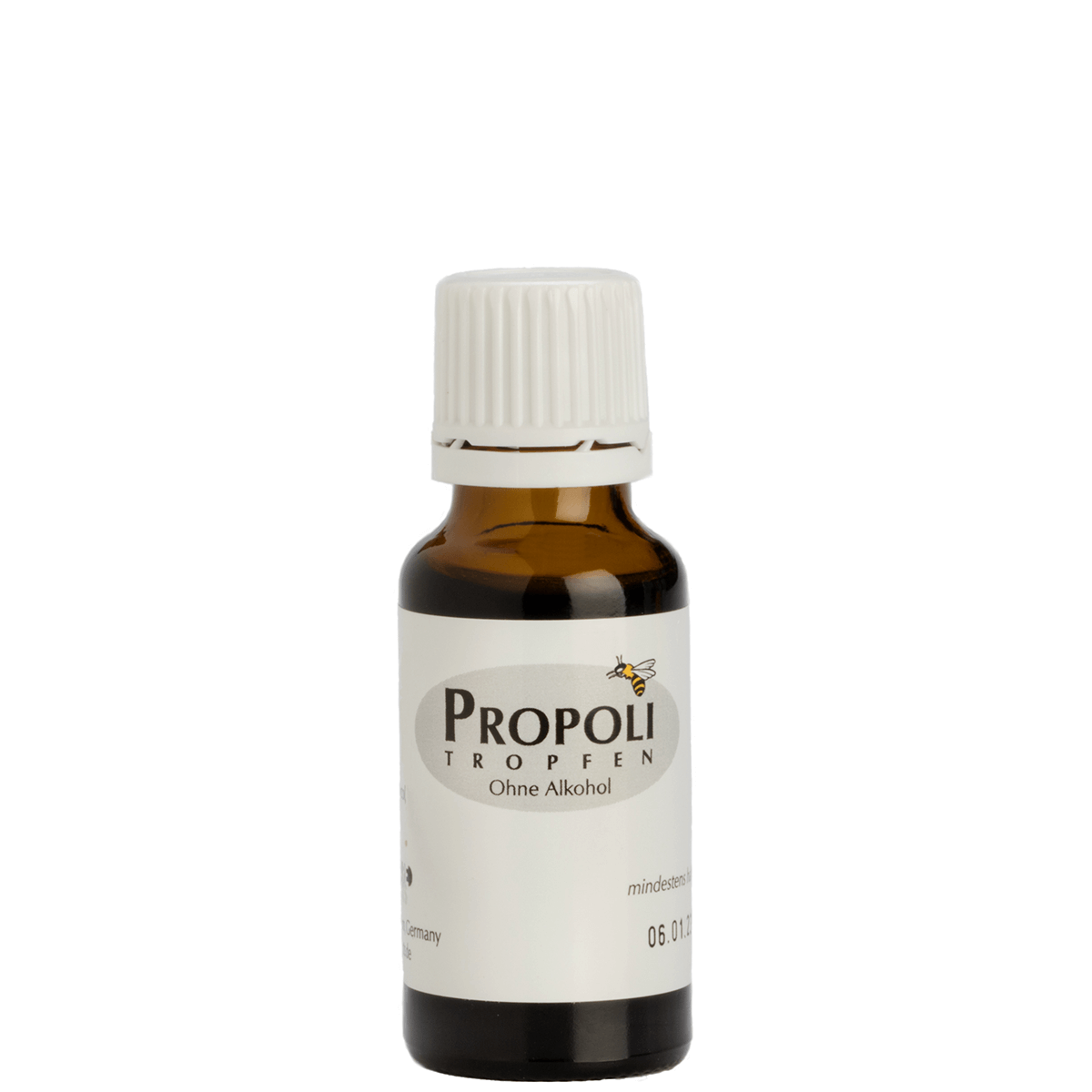 Propolis Drops 20% without Alcohol
UVP: 9,90 €
Size: 20 ml dropper bottle
PZN: 07363740

Put the sting in your health: Our propolis drops will enhance your immune system and protect you from all sorts of harmful germs. These drops are also very beneficial for strengthening your gums. Our expert tip: Relieve your baby's teething problems by rubbing these drops carefully into their gums with your little finger – this worked very well with our son.
Propolis Drops 20% in Alcohol
UVP: 8,55 €
Size: 20 ml dropper bottle
PZN: 07610210

Our propolis drops in alcohol are another way to help your immune system with the beneficial active ingredients of propolis. They are particularly suitable for disinfecting your mouth and throat. (We also have an alcohol-free version for children and expectant mothers.)
Propolis Vitamin C + Zinc Pills
UVP: 15,95 €
Size: 60 pills
PZN: 06767375

Our Propolis Vitamin C + Zinc pills are a dietary supplement which can help enhance your immune system. They contain no sugar, sodium, gluten, yeast or milk products and are also free from artificial colourings, flavourings and preservatives. Recommended for sportspeople, too.